This week, we'll be reading a book by Terry Trueman.
(This guy.)
Trueman was born in 1947 in Birmingham, Alabama, grew up in Washington, and earned a BA in creative writing (University of Washington), an MS in applied psychology, and an MFA in creative writing (Eastern Washington University).

Clearly, he's a slacker who will never amount to anything. ;)
His first novel, Stuck in Neutral, was published in 2001 and won the Printz Award. It is about a teenager named Shawn who has cerebral palsy, told from his point of view. Trueman wrote this book because his son, Sheehan, was born with cerebral palsy in 1979.
Inside Out was Trueman's second novel, and is this week's review book. It was published in 2003, and tells a story about a teenage boy with schizophrenia who is a hostage in a store robbery.
Published only in the UK, in 2003, was Trueman's third novel: Swallowing the Sun. It's about a Honduran teen saving his family after a mudslide in his village.
In 2004, Trueman published Cruise Control, which is a companion book to Stuck in Neutral, told from the point of view of Shawn's brother, Paul.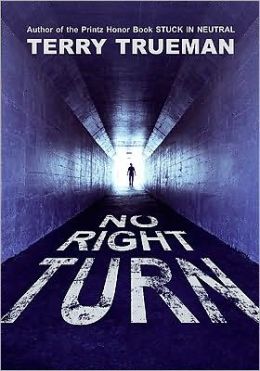 Trueman's fifth novel (fourth in the US) is No Right Turn, published in 2009. It's about a teenage boy (see a trend?) whose father shot himself. The boy befriends the neighbor just to get rides in his Corvette, and even goes so far as to take the car out on his own, risking their friendship and a great deal more.
In 2007, Trueman published a work of non-fiction as a prequel to his most popular work, Stuck in Neutral. It is about his son, Sheehan, the inspiration for the novel.
Then Trueman wrote another novel about Honduras, this time with the teenager, his family, and his village weathering Hurricane Mitch in 1998 instead of a mudslide. In real life, Mitch was the worst storm to hit the Caribbean area in two centuries.
Trueman keeps a schedule of many school and library visits, talking to students about his books and the issues they cover. To read more about what he's up to, check out his website.