The time has come, friends. We're reviewing something by Neil Gaiman, and you know I'm loving it. But there's a twist... we're reviewing it twice... twice. See, P. Craig Russell turned Gaiman's Coraline into a graphic novel, so we're reviewing both. But first things first; today is author bio day.
Neil Gaiman was born in Portchester, Hampshire, which is in England. He keeps a great blog at his website, and is an excellent Tweeter. He always wears all black, not because he's dark and brooding, but because it makes it easier to put together a matching outfit. His family is Jewish and Scientologist, but he is neither. He began reading avidly at the early age of four, and seemingly knew his whole life that he wanted to be a writer.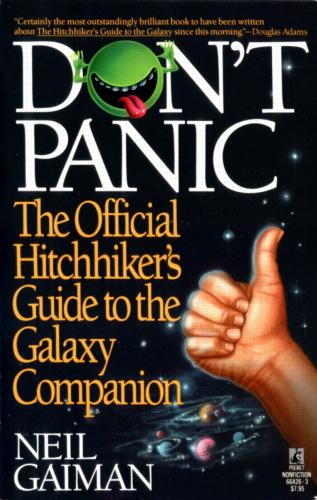 His first book was a biography of the band Duran Duran, published in 1984. He worked in journalism for a few years before writing Don't Panic: The Official Hitchhiker's Guide to the Galaxy Companion (1988).
Gaiman became friends with Alan Moore (who you heard about a couple weeks ago) and moved into the world of comic books. This is where he picked up and revived an old DC character, The Sandman, with his own spin.
I've discussed the Sandman series a number of times on this blog. It ran as a comic from January 1989 to March 1996 in 75 issues. It was one of the flagship titles of DC's Vertigo, and was republished in ten trade paperbacks, and - more recently - in leatherbound "ultimate" volumes including "behind-the-scenes" sketches and discussions of each issue in great detail.
In 1990, Gaiman collaborated with Terry Pratchett (of Discworld series fame) on Good Omens, a comical take on the apocalypse. His first solo novel was Neverwhere, which was a novelisation of a teleplay for a BBC mini-series, published in 1996. Next came the fantasy novel Stardust in 1999, and American Gods in 2001 (and the revisitation to those characters in Anansi Boys in 2005).
But those are just his works geared toward adults. He has also written over a dozen children's books (though he doesn't think of it as writing "for children"). The first was The Day I Swapped My Dad for Two Goldfish in 1997, followed by Coraline in 2002 and many others leading up to this year's Fortunately, The Milk.
I could - obviously - go on about Gaiman for days if Cassy let me, so I'm going to stop there and move on to talking about P. Craig Russell.
Russell is from Ohio and has won the Harvey (for achievement in comic books, named after Harvey Kurtzman) and the Eisner (for creative achievement in American comic books, named after Will Eisner) Awards multiple times each. He is, notably, the first openly gay mainstream comic book creator.
Like most comic book artists, Russell has done a little bit of everything, and therefore the list of his work would go on forever. One relevant highlight for this week would be the work he did on the Sandman series, illustrating the story "Ramadan" in Fables and Reflections. (He also illustrated one of my favorite stories from Endless Nights, "Death and Venice.") He also has a series called The Ring of the Nibelung (you music buffs are right, that's based on Wagner) which he considers his magnum opus.
You can check out his website here, where you'll find tons of examples of his beautiful work.