Everyone who's familiar with any version of Alice in Wonderland knows that it's a little... odd. You've got talking animals (including a tardy white rabbit, a smoking caterpillar, the Cheshire cat) and singing flowers, food that makes you grow and a drink that makes you shrink, plus that whole Jabberwocky thing. It's all just... nonsense.
Well, that's because it's part of the nonsense literature genre.
Part of the genre comes from the folk tradition, bringing us classics such as Hey Diddle Diddle (you know, the one where the dish ran away with the spoon... uh... spoilers?).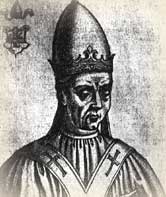 The other part of the genre comes from people known as court poets (picture above is court poet Theodulf). Their job was to create intellectual, sophisticated stories of nonsense, satire, and parodies to entertain the court.
Eventually, those two branches converged, bringing us the limericks of Edward Lear, stories like The Owl and the Pussycat and Lewis Carroll's Jabberwocky (later incorporated into Alice's Adventures in Wonderland and then Through the Looking Glass).
Other nonsense authors you may be familiar with include James Joyce, Roald Dahl, Shel Silverstein, Jhonen Vasquez, Carl Sandburg, Dr. Seuss, Franz Kafka, and L. Frank Baum.